Post by aurelia rusti flint on Jan 12, 2021 20:41:15 GMT -7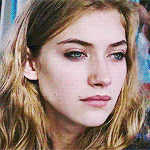 ▲
Isla MacKay, for all intents and purposes, was a prodigy in the world of Herbology for her age. Highest marks during her N.E.W.T.'s in the subject and even received a letter of acknowledgment letter from Hogwarts Headmaster and former Herbology professor himself, Neville Longbottom. Following her graduation from Hogwarts, she was even invited to the island of Hy-Brasil, home to the druid folk, to study their unique habitat. Magical flora was her specialty after all, and the island was abundant in all manner of plants that were rarely found elsewhere. It was a herbologists dream, all in one place.
A few years of private research between Hy-Brasil and other magical potent places around the world, and she started to grow bored of it all. While in the prime of her career, she felt like she had seen and done everything a herbologist could. There wasn't anything to aspire to in terms of research, since it had already been discovered by her druid peers on the island, or by other herbologists that came before her. Top grades in school amounted to nothing, and she had become disillusioned with what she was actually here to do.
Taking up a position at St. Mungo's in the laboratory was really all she could do at that point. Applying her knowledge of specific plants and poisons to assist in creating new methods of healing and potions seemed worthwhile, for a bit. But she was no potioneer, and she never aspired to be one. This job was only to hold her over as she tried to find a new source of intrigue.
The thought of teaching other young herbologists had never crossed her mind, considering she still saw herself as one. But that seemed to be the next step in the process, and it dawned on her then that this was what she was meant to be doing. Not at Hogwarts though; no, that was too stringent and would only hinder her way of going about things. Maybe one day, when she was ready to retire into a cushy job that didn't require travel and heavy research.
Crash-courses in common magical plants were typically done on Hy-Brasil, having become friendly with the druids there over the years. It was easy to win over their trust when all parties had mutual trust and understanding when it came to nature. She was there to learn and to teach others, and having druids there to assist and oversee certainly helped with her teaching process.
Bringing students there to watch them study gave her the same rush that she had experienced the first time she had arrived on the island. Watching them wander the island that knew very little of what was wrong with the world was bliss. Everything fell under perfect research conditions, especially when the flora there was more potent and of a higher abundance than anywhere else in the world. There were no worries about having to tip-toe around a plant that was on the verge of extinction in the Amazon, because there was a whole field to look at here.
After a few years of doing this, one of her newest students, a girl from the prodigious Flint family, entered her summer training program. Isla wasn't oblivious of the family, nor the number of headlines they had made over the last couple of months, but the girl had decent enough marks in school and a drive to do anything regarding plants. That was good enough for the older herbologist, and the girl was added to the ranks of the group that was to set off to Hy-Brasil for the summer of 2024.
Like every other year on the island, this one was exactly the same. The group was allotted a small camp site with explicit instructions on what they could and could not do, nothing that hadn't been reiterated to Isla and some of the older researchers before. And that was pretty much it. She hadn't paid attention to any of her students in particular, but the Flint girl definitely seemed to have a better grasp on the treatment and application of certain plants. In her words, it was because of years of lessons forced on her by her parents, and being the only one that maintained their personal greenhouse. Remembering the articles in the Daily Prophet, that didn't surprise Isla in the slightest.
But the higher class were of a different caliber. She knew Rusti Flint wouldn't be the best researcher in the world, and following the same path Isla had made wasn't the one for her. So she told the girl just that. Apparently that was exactly what she had needed to hear, because following the end of the research program, the girl disappeared for a while, only to show up a few months later with a brand new florist shop in Horizont Alley. Having complete control over her own place seemed to fit the Flint girl perfectly, and it looked like it kept her grounded. Not everyone was made for years of travel and research, after all. While plants had personalities and feelings, especially magical ones, herbology was a solitary career at times.
At least, that was how she had always viewed it.
---
When the rumors of a mysterious island appearing out of nowhere finally reached her, she started to wonder if maybe it was the general public not being acquainted with Hy-Brasil. The druidic peoples kept to themselves after all, and even with the recent predicament with their borders, they were still a very quiet and reserved group. The average witch and wizard probably wouldn't know of them otherwise.
Except it wasn't Hy-Brasil that the whisperings were about. She soon received word from her druid acquaintances, and it became clear that this new island was something else entirely. They were nervous about it, and the Ministry was chomping at the bits to send people there to research it. The numerous letters she got from her friends on Hy-Brasil told her to be careful if she decided to go. But the Ministry was still requesting assistance from researchers, and she was one of the first ones on their list. According to the officials that reached out to her first, she was one of the most knowledgeable on magical flora on Hy-Brasil, outside of the druids themselves, that was free to go to this newly discovered island.
They wanted her to assemble a research team because they were having difficulty convincing the druid experts that they should go to the island first. Remembering the warnings she had received in the letters, Isla knew that there was something more to this island than what the Ministry was letting the general public know. They didn't even send their own people there first; they let Gringotts send their curse breakers. While she knew several excellent career curse breakers, that could only mean that the government assumed the island was dangerous for the normal magical person to step foot on. There was no reason to use tomb raiders and curse experts if that wasn't the case. Knowing her friends that were still in their ranks though, they didn't care. New, undiscovered places gave them the same jitters and endorphin rush that Hy-Brasil gave her. Once they had it on their minds, there was no way they could look the other way. She understood their addiction extremely well, and the mounting pressure from the Ministry to go eventually made her crack and give in.
They were offering a score of money for any samples she could bring back. The first few groups of wildlife experts and curse breakers had brought a few things with them, but according to them, there were vast swaths of land on the island that they hadn't made it to yet. That was slightly concerning. And then there were the rumors of things happening to people if they weren't careful on the island. The creatures there were supposedly abominations in nature, nothing like magizoologists had seen before. Some were unassuming at first, but by a few accounts, there was nothing on the island that wouldn't hesitate to try and kill you if it had a chance. Isla was starting to understand why the druids had warned her at the start. And yet that wasn't deterring her enough.
Even with everything coming out in the last week, she was beyond intrigued by the plant samples being brought back. The animals, strange items being discovered, and mind-boggling mist that apparently appeared out of nowhere, weren't concerns of hers. This island was the next step in her career that she had been yearning for years now. Once she got over the initial hump of worries and warnings, she realized that she needed to get her fix. Badly.
The Ministry received her owl accepting the offer to travel to the island of Yrisle on January 3rd, 2026. They reiterated their instructions that she needed to assemble a team of researchers, so she went about doing that. First, a series of letters to other herbologists and potioneers that she knew specialized in foreign and unknown species of plants. Very few responses came back, most hesitant to travel to a just discovered island whose reputation preceded itself already. Apparently word traveled fast. Unfortunately those that were comfortable in their careers or had families weren't up for risking it all. She could understand that. They were missing out on having their names etched down in history books or discovering new flora.
The second round of letters went to former students and those closer to her in age. There were a lot of go-getters and adventurous types that she knew from school and her various circles. A younger curse breaker from the United States that was acquainted with friends of hers in London responded first. His name was Alistair Crawford, and he had already visited Yrisle once, to much disappointment.
According to Alistair, it reminded him of his upbringing in New Orleans and the surrounding bayou - where the Voodoo Queens and the weird reigned supreme. He was unable to articulate what the actual feeling he got from the island was, but it was an unnatural magic. Apparently it was something you couldn't ignore, and she would understand what he meant the second they set foot on it. He knew of a few locations that would pique the interest of herbologists, and would be able to lead the team there, as well as protect them from the wildlife that liked to congregate in certain spots.
That was good enough for Isla, so she continued to wait for word to come back from her former students. A few letters came in immediately, expressing their disappointment in being too busy to attend, others outright declining the offer because they weren't sure of the island. It made sense. It was an unknown, and no one wanted to throw everything away for that. Even if it meant endless possibilities if things worked out correctly.
The day before she was set to depart for Yrisle, two letters arrived. One from an older herbologist by the name of Cillian O'Shaughnessy, a mentor of her own from when she had first graduated from Hogwarts, who had been retired for at least a decade by now. Cillian was an expert in invasive species, and while the majority of his work bled over to non-magical plant life and working with muggles, he still had a wealth of knowledge when it came to magical flora and what they entailed.
The other was Rusti Flint. The girl that had her own shop in Horizont Alley and easily had the most to throw away in all of this. It seemed counterintuitive, especially with the shop opening in just the last year. She made an immediate trip there to visit the Flint girl, but was met with a glare and told that she wasn't going to be stopped from going. Isla wasn't hard-pressed to turn the offer of assistance away, even if she was worried about it interfering with the work at the florist shop, but Rusti was still ambitious when it came to her career.
With that, the small research team was complete and they were brought to Yrisle by the Ministry on January 7th.
---
"Curious,"
Cillian O'Shaughnessy's thick Irish brogue cut though the palpable silence that had over taken the group as they first stepped onto the island of Yrisle.
The research group had just arrived at the port of Bkrys, where everyone sent so far had started their journey of the island. Supposedly it was more normal than everything else they were about to experience, but it was hard to calculate what normal exactly meant. Isla had shown examples of some of the wildlife and plants brought back so far, so there was an understanding that everything here was certainly different from whatever they had experienced in life so far, and would continue like that throughout the entirety of their trip.
"Certainly is,"
Alistair muttered, giving the three herbologists a strange look.
They had all experienced something similar before, after all. The island of Hy-Brasil, loved by the researchers, was eerily the same when it came to the over-stimulation of magic in the air. Except it wasn't at the same time. Whatever it was that this island consisted of, it had an essence that was both recognizable and foreign to the researchers, and their unwary glances back and forth at one another made them realize that they all understood what they were going through.
"But we can't stand around all day wondering about the curiosities here. The Ministry has that under control,"
he shifted in place as he looked over his group again.
"We have a hike ahead of us, if you want to see some real weird shit."
There was a tut from Cillian at the American's flippant curse, but the young man waved it off as he lifted his pack off of the ground and slung it over his shoulders. The group followed his lead and they began their trek away from the small control point that had been established along the beaches of Bkrys. They had plenty of time to look over this area when they got back, and if Alistair was correct in his assumptions, the Ministry already had the area locked down fairly well.
---
The first part of the journey consisted of walking through the southern edge of a forest affectionately named Wyrdwood. Their guide explained along the way that there really wasn't much to worry about inside the forest, contrary to what some would assume, and that so far there had been very little interference from the island locals or the creatures that resided in other parts that they would be traveling through.
The mention of these locals drew a flurry of inquiries from the other three, who hadn't been clued in on that at all before arriving. Not that it really changed anything, but they were used to dealing with muggles and druids on their journeys, not barely known local residents.
"I wouldn't really call them that…"
Alistair began, hesitating slightly while he tried to figure out the best way to explain the Wyrdlings.
"They're humanoid in nature, but they aren't at the same time. I ran into a few during my first trip here last week, and all they did was watch my group from a distance. I've heard other curse breakers say they've been approached, but I don't really know what they want."
He went on to give a rough description of the humanoid creatures, highlighting the parts where he thought the herbologists might find the most interesting, though none of them had many questions after that. They were starting to realize that this land was far different than what they had expected. While Hy-Brasil was an island of magical wonder, this was one of desolation and the strange. Exactly how Alistair had described it to Isla when he first reached out to her, and how the letters from her various druid friends had cautioned her of it.
After a few hours of trudging through the Wyrdwood, the trees started to become sparse and break open along the edge of a lake. Except calling it a lake was difficult to do when it looked more like a mixture of unknown liquids in a cesspool of inexplicable objects and slimy eels. Even worse was the smell, which wasn't noticeable until the group walked cautiously up to the edge of the water. The fetid surface was, like everything else so far with the lake, indescribable in nature, except that it was unbelievably unpleasant. Filthy bubbles popped all across it, emitting plumes of either smoke or gaseous material, which drew hordes of the eels to the surface instantaneously.
A curious Rusti, who was trying to get a look at what was under the surface of the liquid, had one of these bubbles explode right where she was leaning over, the brown smoke finding its way into her lungs. It brought her to her knees immediately, doubled-over and gagging, and made the rest of the party back away cautiously as the gas floated around in the air ominously for a few more seconds. Aside from the sounds of Rusti's attempts to compose herself through her fits of dry-heaving, the only other noise came from the bubbling pop of the lake and the follow-up of the eels breaching the liquid.
"I'm fine,"
Rusti proclaimed as she stood up on her own after a few minutes, pushing away both Alistair's and Cillian's hands. She wobbled for a few steps but managed to straighten up enough to start walking ahead, giving the lakeside a wide berth. The two men looked to Isla for an explanation, and she only shrugged at them. It would take all day to make them understand the Flint girl and what she had gone through, though if they had paid any attention to the newspapers over the last year they would have known why.
"She'll be fine,"
Isla told the other two.
"Is she going the right way, Alistair?"
The curse breaker nodded that she was, but jogged up ahead, trailing the younger woman by a few feet in the off chance she fell over again.
"Isla,"
Cillian asked quietly,
"I know it's too late now, but are you sure it was smart to bring her?""Like I said, she'll be fine."
Isla repeated. It wasn't worth getting into it now, and Cillian had said so himself. That was a discussion that should have occurred days earlier, when they were going over everything. Deciding someone wasn't fit for a research expedition more than halfway in wasn't the way to go about it.
"I need a competent assistant anyways. She did well on Hy-Brasil last summer, so I have no reason to doubt she'll be the same way here."
The lake eventually began to curl away from the direction they were heading, and they found themselves in similar trees to those in the Wyrdwood. Alistair explained that woods like this were fairly common on the western edge of the island, but the further they got away from Bkrys, the stranger things would get. The lake, which was named Tryd, was only the first obstacle on their way, and the next few legs would be infinitely more difficult.
---
They stopped for the night near another edge of the Wyrdwood trees, where it seemed like they were about to go into another biome entirely.
"They call that area Animiiora. You'll start seeing creatures going forward from here. Some of my colleagues have said it's better if we camp in the Wyrdwood for the night. We'll wake up early so that we can make it all the way to the other side of the island by the end of tomorrow,"
Alistair explained.
He pulled his wand out and started to cast protective barrier charms around the designated camping spot, large domes of shining magic dripping slowly around the group as they start to get set up for the night.
"We'll still need someone to keep watch. I'll take the night shift,"
he added as he threw his sleeping bag along the ground and slid into it, falling asleep almost immediately.
The other three exchanged glances at each other over Alistair's casualness about the whole thing, before returning to setting up their own stuff.
---
Sleep wasn't an easy accomplishment during the Yrisle night, as the herbologists soon figured out for themselves. While nothing managed to bypass the protective charms, there were beasts that came from all over to inspect it. The most curious about it all was that Alistair had made sure to put up a number of warding charms, which normally would have turned away any wandering creatures. Things with multiple eyes and gnashing teeth did laps around the barrier for the whole night. Whether it was to look for a way in or out of interest in the humans intruding on their island, none of the group could really figure it out. Alistair had been smart to sleep first, meaning he was sharp through the pitch black of the night as they were surrounded by the unknown.
The other three had at best, a half-sleep, and only managed to find any comfort in it during the early morning when the sun started to illuminate the tops of the Wyrdwood trees. Even then, they were plagued with odd dreams, and it became difficult to determine what throughout the night was fact or fiction. Breakfast was a quiet event, with Alistair looking the most refreshed. His experience on the island, albeit miniscule, was helpful. A few more nights like that and they would all be experts on the darkness of Yrisle at night.
---
The first thing they noticed about their walk through Animiiora that was different from everything else so far (aside from the previous night), was the amount of wildlife that had seemingly came out of nowhere. Alistair had been right in his warnings about the things they would eventually come across, and the beasts here were unlike anything they had ever seen before. That only begged the question of what the plant life looked like. So far they had only been treated to a few plants here and there, and a forest of twisted wood.
"Don't touch anything. And don't let anything touch you,"
Alistair said for what had to be at least the tenth time that morning.
There were animals all over, bunny-like things that had multiple eyes each, and which the group concluded was one of the groups of creatures interested in them during the night, as well as birds that perched on branches and watched the group closely as they made their way through the new forest they had entered from the Wyrdwood.
"Especially those things,"
he added, and then proceeded to explain that he had seen another curse breaker get licked by one, and his finger turned to stone. That was enough to keep the group watching all directions as they quickly made their way through the area.
---
If Animiiora was to be considered beautiful, the vast wasteland they happened into following it was the place of the dead. It was immediately reminiscent of the danger that the Tyrd Lake seemed to emit, and Alistair's flurry of actions as they approached told them that it was time to be on guard.
"I'm tying all of us together,"
he stated as he started first with himself, then Cillian, and finally with Rusti and Isla.
"We don't want to be here at night, so we're going to do this quickly. If the sun starts going down while we're out there, we need to run. Unless you don't mind restless spirits."
It was enough of a warning to make the other three tie themselves up to the lifeline quickly, and they immediately started out at a fast pace.
The wasteland was a despicable place, and like at the lake, Rusti was the most affected by it. The smells of decay and death, which she would have never been able to accurately explain before this, wafted in and embedded themselves into everything they could. The initial wretchedness did wear off after a while, but they were stumbling onto dead things enough that new smells were always being introduced. She looked back at one point to Isla, hoping that her mentor had the same feelings as her, but the older woman looked as resolute in her mission as was possible, while also trying not to get sick from the assault on all of their senses.
"Isla,"
Rusti managed out as she felt her breakfast try to make its way back up. She had to hold a fist to her mouth to compose herself again, before continuing,
"Is this really worth it?"
Her mentor only nodded her head, which Rusti took to mean that she wanted to answer, but couldn't physically bring herself to do so without being sick. At least they were all in a similar state to one another.
---
The sun was just about to start its descent when they made it out of the wasteland. The way the smell and surroundings cleared up instantaneously was quite literally a breath of fresh air. This new area was the opposite of what they had just trekked through; quiet, peaceful, and almost normal. It consisted of rolling fields of flowing grass and flowers, which, from a distance seemed like any old flower, but on closer inspection were breeds of plant that didn't exist elsewhere. The picturesque landscape seemed quite contrarian with what they had ventured through to get there.
Rusti had a shoe halfway off so that she could run her toes through the grass after an entire day of walking when Alistair held a hand up for her to stop.
"I wouldn't do that until you know its regular grass,"
he warned.
She stared at him for a few moments before defiantly removing it all the way and tugging her sock off as well. The grass was velvet-like in feeling, and it seemed like any other non-magical grass. They would be running tests on everything the next day anyways, along with all of the flowers they found here. There was no telling what sort of magical properties they could have, after all. Isla had stated from the start that it was a good chance this island was just like Hy-Brasil, and everything on it would have some sort of potency that they could use.
Up ahead, Isla and Cillian were already starting to poke and prod at the various flowers, careful not to pull any out of the ground or shake them too hard. Cillian had a magnifying glass out and was lying on his stomach, observing a flower that had a violent shade of purple in its center, and blended into jagged orange petals only along the top half of it. A few feet away, Isla was trying to discern what the purpose of the blue sunflower was, as it wasn't following the normal trajectory of the sun like the flower was known to do. As the sun continued to dip lower and lower in the sky, she let out a surprised yell, calling everyone over to her location.
"Look! It follows the moon instead of the sun. How fascinating!"
she said excitedly, pulling out a camera from her pack and immediately starting to snap pictures of it.
Just like the newly dubbed 'moonflower', other plants in the field did all sorts of strange things with the disappearance of the sun. Bioluminescence and humming noises seemed to be popular ones, and it was unclear as of yet if they were of all the same species of plant or if that happened to be a reoccurring theme in this part of the island. Rusti and Cillian went around taking down notes on specific ones so that they could check their daytime forms the following day, while Alistair completed his circle of protection charms like he had the night before. Isla continued watching her moonflower, the center of which had turned into a globe of white light that mimicked the moon that stared down at it. There was very little talk aside from asking one another to come over and look at a specific plant, and that was a theme that went on late into the night.
---
The following morning brought an intense amount of work for the herbologists. Alistair ended up being a runner for the other three, bringing bags of samples to and from their encampment, out to where the three had spread themselves across the field. Everything was collected, from seeds to petals, though they had made a deal that morning to not pluck anything from the ground. The unnerving feeling that the creatures from the day before had left on them was making them work cautiously. Isla had brought up the point that they would probably end up here again eventually while researching the island, so it was better to be wary of what they were removing until they knew everything better.
And so an entire day passed with very few worrisome occurrences. A couple of the birds that had watched them through the woods of Animiiora circled above every so often, but they always retreated back across the wasteland and towards the woods again. It was brought up by Alistair at one point that he was pretty sure they were the creatures that were dumping the decomposing animal bodies in the wastes, though that was only a hypothesis. He had been taking notes the entire time as well, and had told Rusti that he was planning on providing them to other curse breakers exploring the island and most likely magizoologists as well. Their group had been lucky so far, but there was no telling what the wildlife of the island was capable of yet.
---
On the tenth of January, it was decided that the group would start their journey back to Bkrys. They still had a day and a half to go, and the plan was to make it through the wastes early in the morning so that they could speed through Animiiora as fast as possible.
There were more birds circling overhead that morning as they tied themselves to each other as they had two days earlier, and they were followed all the way through the desolate fields. Leaving behind the rolling hills and flowers and entering this place again led the group into a depressive slog. It was almost more difficult to walk through it going back than it had on the way through the first time. The smell hadn't changed much either, though the afternoon sun didn't help in the slightest with keeping things from stinking around them.
There wasn't a real problem until the sun started to get lower in the afternoon sky and they hadn't even made it to the first trees yet. They were visible in the distance, but were hazy at best. By the time Alistair got them to the edge of the first forest, a low fog had gathered along the ground at ankle height. They undid the ropes and he encouraged them to walk a little faster than they had the first time they had gone through. While the plants they had brought with them weren't individually heavy, they had taken tons of samples – enough to weigh down each of them significantly. They could only go so fast at this point.
With the sun dropping lower and lower, it seemed like the fog surrounding them was sucking up all the sunlight and using it to expand. A decision was made to tie themselves together again, but when Alistair went to grab the rope from his pack, it was gone. And then they realized so was Cillian. He had been between the curse breaker and Rusti, and in an instant he had disappeared without any of them noticing. Calls for him were in vain, as their voices barely traveled further than a few feet. The fog acted as a wall and a buffer, and there was no telling what was up or down anymore.
Wands out, the remaining three backed up into each other and attempted to break the fog with everything they knew. None of their spells worked. There was a brief mention by Alistair that the fog was probably of magical essence, though he had never seen anything like it before in his travels. He was halfway through another thought when his voice dropped off completely. Rusti and Isla turned around at the same time, only to see one another and nothing else. It seemed whatever fate had befallen Cillian, had also met Alistair in an instant.
In a moment of panic, Rusti grabbed onto the older woman, assuming that whatever was out there couldn't take one without the other. A stream of anguished sobs came out of her as the realization struck that this was maybe the end of it. Isla only stared ahead into the blank void, emotionless like she had been the first time they had crossed the wasteland. Everything had happened so fast, that she had barely had time to process where the other two had gone yet.
In an unknown amount of time, the fog eventually made it up to their necks. They looked like bodiless heads, floating in an ocean of soapy air. An argument could have been made that this was all that existed of the two of them anymore, and maybe that was a good thing. Wherever Cillian and Alistair had gone too, eventually they would to.
---
Rusti woke up on the forest floor. It wasn't immediate at first, but she could feel something poking at one of her fingers, which is what eventually pulled her from her slumber. Blinking away the sleepiness in her eyes, she could sort of make out the dark shape of one of the birds that had been following the group over the last few days. It was pecking at a ring on her finger, trying to pull it off gently. With a jolt of her arm as she realized what was going on, the bird hopped back and flapped its wings a few times, beating her with bursts of air as it flapped at her in a hovered position. A long, blue tongue protruded from its beak as she backed away from it on the ground. After a few seconds in this standoff, it seemingly decided it was done with her and flew off into the trees.
Confused at what was going on and feeling a pounding headache coming on, Rusti looked around, seeing a backpack a few feet away against the foot of a tree. It was Isla's pack, though her mentor was nowhere to be seen. She called out a few times, her voice husky and rough in its parched and scratchy state, but no one answered her in return. She made the conclusion that she was probably on her own.
She had no idea how they had made it out of the fog, but at least she and Isla had. Or maybe only she had, and she had taken Isla's backpack with her? There were a lot of unanswered questions, and her immediate problem was figuring out where she was and where she needed to go. Based on her surroundings, she made the educated guess that she was most likely back in the Wyrdwood, though remember Alistair telling them that these woods spanned a large swath of the western part of the island.
Grabbing the bag and slinging it over her back, she ruffled through her pockets until she found her wand. Except it wasn't hers, and looked like, once again, it belonged to Isla. None of this was making sense to her, but she could still use it even if it wasn't hers. Casting the point me spell, she found north, and immediately started her walk westward and hopefully back to the port.
It didn't take long until there was a gap in the trees and she found the coast again. Following it led her back to Bkrys in a matter of hours. The entire time walking felt odd. She hadn't noticed it at first when she woke up, but her body felt heavier than normal. Rusti chalked it up to sleeping on the ground and whatever else had happened between the start of the fog and when she awoke. She hoped someone at the port would be able to tell her what had happened, and where the others had gone. It was absurd that they would just leave her there unless something else had happened and they had to leave her behind.
Whatever she was expecting to happen as she strolled up to the encampment at Bkrys was not what she ended up getting. A Ministry official that spotted her from a distance yelled something back into the camp and a few more heads popped out of tents to look at her. A group of them started running in her direction, and what looked like mediwitches were with them as well. It was an odd welcoming party, and they made her sit on the ground as they started inspecting her. One of the more official Ministry members kept asking her where the other three were, but added her own name into that list. Rusti stared at him, confused, because she was pretty obviously not Isla MacKay despite having her backpack and wand.
Despite her insistence that they were all wrong about who she was as they walked her down to one of the tents, Rusti started to get frustrated about the whole thing. All she wanted to know was what had happened. The Ministry official couldn't answer that question though, since he wanted to know too. One of the mediwitches finally got her to sit down in their first-aid tent, and got about to cleaning up a few of the scratches she had on her arms. That was when she saw the mirror sitting on a table across from her. Isla was staring back at her. It took a moment to realize that she was looking at herself, raising a hand up and touching her face as the Isla in the mirror did the same thing.
"What the fuck is going on?"
she stuttered out to the mediwitch.
"What's going on? Why do I look like her?"
Rusti jumped to her feet and ran to the mirror, holding it as close to her face as she could.
"What kind of trick is this?"
All the mediwitch could do was stare back at her, confused about what was going on. The sudden yelling drew the attention of the Ministry official, who came in with a few others, wands drawn. Rusti immediately spun around to face them, wand raised.
"Tell me what the hell is going on, right now!"
Her action drew a few of the officials to point their wands at her, as the leader stepped forward to try and defuse the situation.
"Calm down Miss MacKay. All we know is that your group left on the seventh of January, heading towards the eastern side of the island, and you're the first one to come back. We have just as many questions as you do about what happened out there."
Rusti backed up into the table as he called her MacKay and said that her group had been missing for a number of days now.
"What day is it?"
she asked slowly.
"The fifteenth of January,"
the official answered. He motioned with his hand a few of his men approached Rusti, taking her wand from her.
"And I'm Isla MacKay?"
she added as she watched the Ministry men cautiously.
"Yes you are ma'am. So if you're up to it, let's start going over everything that happened from the moment your group left here. That way we can find the rest of as soon as possible. Do you think you're up to doing that right now?"
MADE BY VEL OF GS + ADOX 2.0