Post by cordelia regan smith on May 19, 2021 22:16:23 GMT -7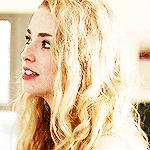 ▲
Valentine's Day. In typical fashion, Cordelia was quite the cynic when it came to the holiday, like she was with most. It wasn't the actual day itself that irked her; no, it was the lead-up and the expectations that came along with it. Christmas fell into a similar vein for her, and whilst she enjoyed the family aspect (which was basically just her mum at this point), the commercialism and expectations that surrounded the season of cheer was an extreme bore to her. Valentine's Day, likewise, did not win her over at all. These days it had more to do with her father's infidelity and that she really disliked the overall gross, mushy nature of people that seemed to sprout up in the week before the day of. Why did this specific day have any more importance than any other day of the year for a significant other? She wasn't particularly one to talk since she had absolutely zero experience in that field, but from an outside point of view, it was glaringly obvious what a marketing sham the whole thing was. Even the candies that popped up in February were themed towards the day and tasted like knock-off cherry and other foods that were inherently red. It was so tacky.
Of course, The Quibbler didn't think so. Which, with a lot of hindsight, made sense to her. Her job for the day had been to take a picture of a real, living cupid shooting a couple with one of their heart-shaped arrows. All she managed to find were the typical flying cherubs at Madame Puddifoot's in Hogsmeade, in which it was unclear whether they were real things or not (she still took a lot of photos with plenty of peeved couples glaring at her in them), and then Jimbo Blishwick strolling through the wizarding town sporting a gaudy red and white suit adorned with hearts and a walking stick with a cupid at the top of it. He was more than happy to have his photograph taken, but also had zero knowledge on whether the mythical beings existed. Which seemed odd, since the newspapers were always talking him up as the master of love. She didn't really see it at all.
By mid-afternoon, she had returned to The Quibbler office and felt horrid. She knew she was coming down with a cold, so she turned over her work camera and film, and left early for the day. There wasn't much more to do anyways, and she was sure the editor would be more than happy with what she had managed to snap. They always were, even if there was nothing in the actual picture. Once she was home, she immediately dragged herself to the medicine cabinet and took muggle medicine, then passed out on the couch. Making it the extra ten feet down the hall to her bedroom was impossible between the slight fever and codeine dreams that wanted to take over.
MADE BY VEL OF GS + ADOX 2.0