Post by Deleted on Apr 29, 2017 11:19:13 GMT -7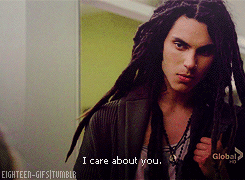 Samuel's sister had been talking to him about a particular person. This person, with whom it took a long time to get the name, needed help. His older sister, Freya, was a Healer at St. Mungo's. She had been called into Hogwarts to go speak to this student and try to figure out what was going on. Samuel spoke with Freya here and there, and once figuring out that it was Maria​, he invited himself along without approval from his sister. She didn't fight him much on it, though. Samuel ended up going dressed in his Ministry robes, and Freya had let her own boss know she was taking him along and that he worked in the Department of Mysteries and could give a different perspective to it all.

After the Yaxley siblings were thoroughly checked at the gates of the castle, they were cleared to enter. Samuel knew with who their father was, it was even more necessary to be harder on the two of them, but they hadn't found anything of course. The walk to the Hospital Wing wasn't long, and he had a small smile, reminiscing of his own years here. They were so long ago, but he still remembered clear as day. However, what he saw as his sister entered the hospital, was Maria, strapped down to the bed. Samuel clenched his teeth together tightly, suddenly angry at the way she looked.