Post by lily luna potter on Aug 14, 2017 18:17:27 GMT -7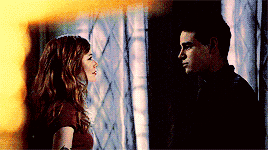 @jamie
It happened again. He said it wouldn't happen again. And it did. Lily knew that she couldn't blame him for it though. His mother was in an accident, something that had resulted in a sort of screeching noise emitting itself from Lily's mouth when she heard. Adrian's mum was way too sweet and nice to deserve an accident of any sort. It wasn't fair to her or Adrian. But he had to go, and despite Lily's reluctance at first, she knew that it was for the best. She couldn't hold him back. Normally she'd say that Adrian was lucky for that, her allowing him to run off and do his thing. But that was selfish. As selfish as she normally was, this was the one time where Lily Potter let someone else go first. And it hurt for a lot of reasons. First came that 'what if' scenarios, where she questioned him whether or not his mother was really in as bad of a condition as she apparently was. That was met with her realizing how insensitive and stupid the whole thing sounded in the first place. Only added to her typical selfishness. Turning that part of her off was difficult, but it was for Adrian, so she did her best.

The second part started right after the first, and upon her realization that there was no way to keep Adrian at Hogwarts. This plan was more Lily-esque, and it involved her running away with him to LA. She thought that was a pretty good one, and that it would help out a lot if there was someone else with him during all of it. One word summed it up perfectly though: idealistic. Tagging along to a different country and skipping school was a pipe dream. There were certain things that her parents were lax about, this was not one of them. Without a proper plan in place and with Adrian leaving, Lily did the one thing she had only contemplated once before. She gave up. She couldn't go, and he couldn't stay. Some things weren't meant to be, and this was apparently one of them. They were lucky enough that he hadn't left in December when he very well could have. The lease that bought them an extra few months had run out now, and there was no way to extend it any longer.

Adrian left, and so did a part of Lily.

A few days had passed since he left and now it was April 1st. Normally today was a great day, pulling pranks on everyone and getting away with it. This time it felt like the joke was on her, and that it was never going to end. Lily didn't want any part of the plans that she had initially made, and instead she did everything but pull pranks. The seconds of gratification and the small laugh it would elicit would only exist right then and there. No more, no less. There had been mention of a semi-official pick-up Quidditch match, and Lily immediately signed up. Anything to take her mind off of it for a few hours worked. Except the excitement of the sign up didn't last for longer than that, a few hours. Immediately she was back into her funk, wandering around aimlessly on the grounds. Eventually she found herself on the beach of the lake. There was no one else around, so she sat up against a fallen tree at the edge of the water, pulling her legs up to her head. At first, crying seemed to fix the problem, but her tear ducts were all dried up now apparently. Even if she wanted to, nothing would come from it. Adrian was gone.