Post by Deleted on Dec 4, 2017 21:27:00 GMT -7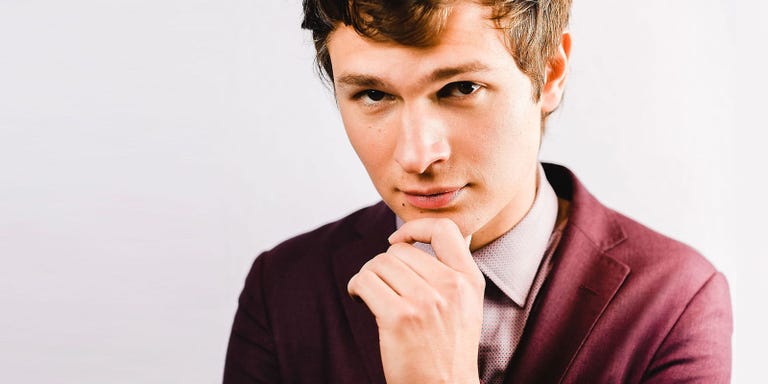 Hello there, my name is
Jacob Kowalski III
but you can call me
Jacob or Jac
. I'm originally a
Wampus
but now a
Hufflepuff
and
17
so that makes me a
7th
at
Hogwarts
. You could say I'm
hard working, patient, & loyal
but I personally think that I am
Smart, funny and carefree.
People say I look a lot like
Ansel Elgort
, but I don't really see it...
Jacob Dale Kowalski III

pronunciation:
Jay-Kuhb Ko-Wal-Ski

nickname:
Jac, Jack, Third(By his twin sister when she wants to tease him).

age:
17

date of birth:
4th, may, 2007

gender & pronouns:
Male, He

blood status:
Half-blood

sexuality:
straight

schooling:
First to Sixth year as a Wampus at Illvermorny. Seventh year a Hufflepuff at Hogwarts.


occupation:
To someday be something that helps people all around him maybe help bridge the gap bewteen Magical and No-Maj kind but deep down also wants to be a Baker/Chef.

wand:
15" Rosewood with Wampus Hair core.

playby:
Ansel Elgort

appearance:
Jacob stand 6'0" even and looks just like his playby.

________________________________________________________
personality
likes:
His family
Friends
Cooking and baking
Deserts
Gobstones
Unicorns and all other creatures.
Trying new things.

dislikes:
His school being damaged.
People getting hurt.
Burnt food.
Sitting still and waiting.
His sister picking on him.
Hearing other peoples thoughts when he doesn't want to.
Depressing people.

erised:
To one day own a magical bakery and run it just like his No-Maj Grandfather did in New York.

amortentia:
Fresh baked cookies, chocolate and woman's perfume.

boggart:
Something happening to his family because they are Half-bloods but it used to be just burning the kitchen down while cooking.

overall personality:
Jacob has always been a happy go lucky type of person. Trying to always see the positives in any situation and embrace new things. His family would claim he doesn't have a mean bone in his body and for the most part that would be right. He'd always defend himself or someone he cared about if he needed to but there had never been a situation that called for it. He was always taller than everyone else growing up so people never picked on him or tried to. All but his sister of course but she was always like that.

He also developed a strong passion for cooking from his Grandmother Queenie Kowalski. He enjoyed everything he did with his grandmother and learning how to cook with her when he was younger. She would always talk about how his grandfather, who he got his name from, was the one with the real passion for cooking. How he could make these amazing things and while being a No-Maj no less. It only made him prouder of his name, his family and being a Half-blood.

It's far more likely Jacob would be found in a kitchen or relaxing somewhere than being the center of any spotlight or commotion. He's far too laid back for anything like that but he's always ready to cheer someone up with a joke, reassurance or just with something he baked. Yet just because he's carefree and just wants to cook doesn't mean he isn't smart or quick thinking, rivaling even his bookworm sister at times.

________________________________________________________
personal history
mother:
Agnes Kowalski, 48, Shopkeeper at the Wanderous Wands shop back in American.

father:
Jacob Kowalski Jr, 50, Head of the Body for Protection of Magical Species.

siblings:
KOWALSKI, ____ ____ *W/S/17 ( Twin sister.)
KOWALSKI, ____ ____ P/R/14
pets:
A black rat named Nibbles.

history:
Jacob was born three minutes behind his twin sister and she has never let him forget about it. She always beings it up when the situation calls for it or just to remind him that she is slightly older. She has always been incredibly serious besides this topic. Jacob was just the opposite of his normally serious sister. He grew up always taking things as a joke and just trying to have fun with his life and the friends he made while growing up. while his sister showed magical talent very early in moving objects at times Jacob never did to the point his parents worried he might end up a No-Maj. While they would have loved him no matter what it would make life more difficult for everyone with the barrier between the magical and No-Maj world.

That all changed on his seventh birthday when his grandmother Queenie showed up for his birthday with a present. Queenie told him she had a surprise for him and asked him to guess, just for laughs she used her legilimency to see what he was going to guess. Jacob said that it was a stuffed animal right a way. When asked how he knew Jacob said Queenie told him but she never said anything. Queenie tested Jacob some more to the point they were talking with just legilimency. He was no where as skilled as Queenie or even a trained legilimency but Jacob had the natural talent that Queenie had for legilimency when she was his age too. His sister was immediately jealous of the gift that their blood line had given to her slacker brother and not her.

Jacob began to spend even more time with his grandmother, not just because of the bond they shared but he had always loved being around her. She loved to cook and make amazing meals and Jacob wanted to learn more. She taught him more about legilimency but it became clear he was far more interested in cooking and the stories of his grandfather. Jacob, the No-Maj baker who made these amazing dishes and went on adventures with his grandmother and friends. Jacob was proud to have his grandfathers name and wanted to be just like him one day.

His eleventh birthday came and went as the whole family was swept up in the rush of both children being accepted into Illvermorny. His sister was looking forward to it, to learn more and join the magical world doing spells of her own. Jacob was nervous for the first time in his life. He would miss his family, No-maj friends and Grandmother Queenie. He was also worried because his abilities to control his legilimency weren't that strong, while he could hear others thoughts and get some memories that weren't things people kept hidden he had a hard time turning it off. Queenie had tried her best but she they seemed to end up talking about cooking more than legilimency.

Both brother and sister were quickly sorted into Wampus, neither had a preference but his sister did hope she would be in different house than her brother. Still Jacob did like the idea of being around his sister, they always fought and she acted like she hated him but they did love each other in an always fighting brother and sister kind of way. Life was peaceful for Jacob at school, he loved everything involving magic but still somehow found his way back to the Illvermorny kitchens. The House-elves didn't mind him and the pukwudgies stopped complaining about a student in the kitchens after he made them deserts a couple of times.

Over the years he got a better grip on his legilimency with only a rare slip where he would hear the random thoughts of someone around him or someone he was talking too without meaning too. He still kept this talent to himself and only his most trusted friends, he knew it would make people nervous around him if they knew he could read thoughts even if he didn't plan to. Thankfully his sister either didn't want to share that her brother was special or thought the same and didn't tell anyone for her brothers sake.

This peaceful life all changed over the summer of his sixth year. Jacob had heard all about the dangers happening to the European school called Hogwarts. How a group of blood-purists were causing so much trouble with kidnappings and killings. It sadden Jacob but he was glad his friends and everyone he cared about were far away from the danger. Sure America had it's issues but nothing seemed as bad as the ones in Europe. What followed next was something he had never expected. Illvermorny, the school he had come to consider a second home was attacked that summer. It was still in one piece but a group outraged over the issues of No-majs had ruined it for sometime. It would take so long to repair that all the students were offered to attend Hogwarts for the next year.

With that offer their mother took a leave from her job to take the children to Europe while their father stayed in America working his job with the magical congress. It was a nerve wracking idea for Jacob but with some encouragement and stories from his grandmother Queenie he was excited to go to Europe. To see the sights and try new things in a different land.



________________________________________________________
alias
name:
Other TJ



age:
29

time zone:
Est

reference:
I dunno?

other characters:
@crimson1 ,

shawn lesley ashcroft

,

Gilderoy Leroy Lockhart Jr