Post by Deleted on Jul 10, 2018 15:31:39 GMT -7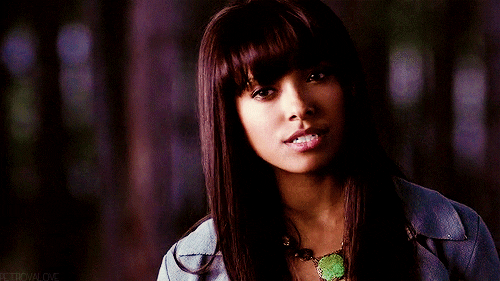 hello there, my name is
mercy motaz
but you can call me
mercy
. i'm a/an
adult 
and
24 
so that makes me a 
graduate
of 
homeschooling
. You could say I'm
ambitious, cunning, & resourceful
but I personally think that I am
mysterious, manipulative, and a pathological liar
. People say I look a lot like
kat graham
, but I don't really see it...
mercy bridgette motaz
pronunciation:
Mur-see brig-eet moe-taz
nickname:
She goes by plenty of names... You're more likely to know her by any number of those instead of 'Mercy'.
age:
24
date of birth:
April 10th 2000
gender & pronouns:
Female. She/her
blood status:
muggleborn
sexuality:
bisexual


schooling:
homeschooled... sort of. (explained in her history)
occupation:
Grifter (con artist)
wand:
12 inches, dragon heartstring, cherry wood - She doesn't use it often
playby:
kat graham
appearance:
Mercy is a master of disguise. While she can't change her 5'6 height and mixed race ethnicity. The rest of her features though... Well, it's always hard to tell what she might look like from day to day. Her naturally black hair can be short, long, blonde, brunette, all magically dyed and done of course. Some days she will be dressed in the highest fashion, and the next in second hand jackets and glasses. In her line of work though, she has to be able to become a different person. One thing that seems to be consistent is she always keeps a magically enchanted leather bound journal with her. It's contents are unreadable to anyone but herself as she uses a special magical ink that only shows for her. Instead she keeps notes on all her identities to keep them straight.

________________________________________________________
personality
likes:
stealing
jewels/gems
costumes/dressing up
shopping
theater
tricking people
learning new things (especially if she can use it later to fool someone.)

Her likes can seem to 'change' depending on who she is pretending to be.
dislikes:
staying in one place too long
getting caught in the con
discrimination
Idle time (she prefers to be busy.)
Wands

Her dilikes can seem to 'change' depending on who she is pretending to be.
erised:
Mercy wants to live a 'comfortable' life... Though her idea of comfortable happens to be extremely wealthy, and probably on her own island with mansions all around the world. You know, nothing too extravagant!
amortentia:
cigarette smoke, lavender, and vodka
boggart:
She has a deep fear that someday she's going to end up back where she started, stuck in the lifestyle that she was raised in. Basically a dead end loser with no future.
overall personality:
Mercy is... a complicated and mysterious mess. Those that know her as 'Mercy' don't really know her at all, to be perfectly honest. Because 'perfectly honest' doesn't seem to exist in her vocabulary. The young woman is a pathological liar. She lies all day, everyday, for no reason at all. And there can, at times be no consistently to her lies, making it extremely difficult to decide what is and isn't true about her. For example, one day she will absolutely hate mushrooms, and the next she is fine with them but hates peanuts. And that's just when she's being 'herself' or... when she's not acting, to put it better.

When she is just being Mercy though, she comes across as a very head strong and independent woman. She knows what she wants, and knows what it takes to get it, and her confidence is practically overflowing. She's a woman on a mission, who doesn't waver once she gets on a path. This overwhelming determination can be a bit intense sometimes.

She is an unusually fast learner with a keen sense of observation. Her rough childhood taught her to learn fast to survive, but also the life style she's chosen. In her line of work, she has to adjust fast for things could end extremely badly. So, she's had to learn to adapt. Her observation skills have been a developed skill purely, again, for survival. She has to know when she can, and can't trust an individual, and just how much she can trust them, otherwise she wouldn't have lasted this long in the business.

When she is being someone else though.. Well, be prepared. She is a perfect little actress, able to become anyone she wants. Nerdy, classy, raging bitch, whatever she needs to be to sell a con, she can do it.
________________________________________________________
personal history
mother:
Edna Smyth, deceased
father:
Micah Brown, MIA
siblings:
None
pets:
none
history:
Mercy Motaz was born Velma Smyth. The daughter of a drug addict who spent too many nights partying and a traveling business man who never returned. Due to her mother's obvious... inability to care for a child, Velma was shipped off to her maternal grandparents who lived in the Australian outback city of Alice Springs. Her grandparents were the sort who liked to mind their own business and ignore everyone else, so much of her childhood was spent in isolation, never spending to much time with children her own age. This lonely childhood meant she played mostly by herself, playing make believe and going on fantastical adventures. What she didn't realize at the time was that some of these make believe games weren't nearly as 'make believe' as she thought, but was in fact her magical abilities beginning to manifest themselves.

It wouldn't be until she was eleven that some... government officials came knocking. They explained to her grandparents about her... oddities. That she would need special training due to her magical abilities. Her grandparents though were dead set against shipping her off to a Magical school. So an alternative was reached. There was a magical family in the city as well who preferred to homeschool their many children. So, after some persuasion, the couple agreed to tutor Velma as well. In a sense 'home schooling' her. This was to be the start of Velma's road into crime. Being tutored by another family each day gave Velma new found freedom and access to the world. She was able to meet kids her own age, and actually make friends. She was able to slowly work through her social awkwardness and come out of her shell. Her teenage years she learned and grew quite a bit, and also started to get into trouble. Alice Springs isn't exactly a safe or peaceful city. There is quite a bit of criminal activity and racial fueled violence. It was relatively easy for Velma to fall in with the wrong crowd and start getting involved in petty theft, arson, and vandalism. As she got older, the crimes slowly escalated. Just as the crimes did though, so did her magical competence. She was a quick study, picking up on her studies quickly. Her grandparents, never too keen on the idea of her being a witch never took an interest in her education so her criminal activities were easily missed as well. All the while, the only people who really knew anything about her magical ability was the family who taught her, having advised the girl to never divulge what she was to someone that wasn't a part of the magical community.

Once she reached the age of 18, Velma and her band of delinquent friends decided that Alice Springs was just too small for them, and it was time to move to the more populated coast. Where they could really get in the game. After hiding her growing magical knowledge for so long, the girl had little desire to really 'work' in the community and instead stick with the work she'd been slowly getting into as a teenager. She had a knack for it after all. Especially lying. It just came so naturally to her. So why not use the skills she'd been given? The next few years was an elevation in crime, and risk for the band of budding criminals. Always taking bigger and bigger risks, trying to get a bigger payout. FInally though, when Velma was 22, things came crashing down on them. One wrong mistep and one of the guys set off the alarm in the business they were currently burglaring. Police were blazing down on them, and Velma had a choice. Get out using magic, or get caught and arrested with the gang. When they weren't looking, she took the first option. Abandoning her friends, she managed to escape that terrible night. And that was the beginning of her solo career and true introduction to the con. Deciding that thievery was too risky for her, she spent the next several years traveling, learning accents, learning the arts of true manipulation, and getting people to hand her exactly what she wanted. Because of a warrant for her arrest in Australia (her old gang ratting her out) she's never stayed anywhere for too long, and never returned to the country of her origin. Since arriving in Europe she's gone by the name 'Mercy Motaz', having abandoned the named Velma when she left Australia.

Obviously, she has worked in the muggle community far more than the magical over the years, but she's stayed in touch enough to know that quite a bit has been going on in the United Kingdom. Murders, attacks on schools and students, that sort of business. While coming to the area during such a time might seem insane to most, Mercy sees it as a challenge. Things seemed to have settled down, but the unrest has left plenty of people vulnerable and thus perfect marks for a professional grifter. But she still has a potential concern that she might end up on the wrong side of this feud...
________________________________________________________
alias
name:
Sora
age:
27
time zone:
Mountain
reference:
Co-admin here
other characters:
Diana Bainbridge and Maria Da Silva Povoa