Post by Deleted on Mar 3, 2019 22:05:35 GMT -7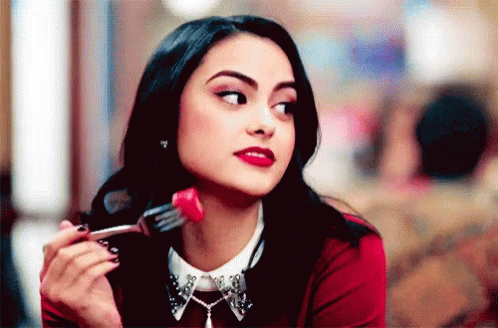 Sarah Jane Oliveira
---
pronunciation:
S-air-ah jay-n oli-fair-ah
nickname:
none
age and birthday:
24
March 4th, 2000
gender and pronouns:
female, she/her
basic info
---
blood status:
halfblood
Werewolf
sexuality:
Bisexual
wand:
doxy wing, blackthorn, 12 1/2 inches (newly acquired thanks to her new job).
playby:
Camila Mendes
appearance:
5'3 in height. She has dark hair and wild eyes. She has several scars, from fighting obviously, all over her body and several tattoos , including one of a wolf head on her left shoulder blade. There is a deep scar on her right shoulder, from where she was bitten.
education and jobs
---
schooling:
Hogwarts - Slytherin
schooling status:
Expelled beginning of her seventh year
current occupation:

Current: Magical Interpol Recapture Unit (explained in her history)
Past:
Inmate of Azkaban Prison
Exotic dancer at Club Indigo
Assassin-for-hire
personality
---
likes:
the outdoors
running/exercising
her family
knives
night/darkness
alcohol
smoking
loud music
getting what she wants (by any means necessary.)
dislikes:
The Ministry
Hogwarts
wolfsbane (especially the potion)
big cities
werewolf discrimination
being restricted (rules)
people getting in her way
erised:
The fall of the Ministry and a state of total lawlessness with no rules or authority.

amortentia:
campfire smoke
pine
the ocean
wild flowers.

boggart:
Small, confined places/being trapped
Losing something that 'belongs' to her (or rather someone taking something that's hers and her not being able to take it back.)
overall personality:
Sarah has never been a pleasant individual. Not really a people person. Well, not a nice people person. She loves to party, and drink, and all around have a good time. The wilder it is, the better. She is reckless, and intense with a strong desire to make only one person happy; herself. She has little regard for consequences, and has very little fear of them. It's not just confidence though. She is a full blown psychopath.

Sarah is the mother of a toddler, Sebastian. But she isn't the motherly type. Those that know her (and know her very well.) understand that she does not love her son. But rather she sees him purely as a possession, something in which that belongs to her. And while she wants him to be happy it's more like how pet owners want their pets to be happy. It isn't recommended to get between her and Sebastian though. She is very possessive, and flat out dangerous if you take something that's hers. 

The young woman sticks strongly to her believes, and refuses to be swayed. A will of iron. She will do anything necessary for a cause she believes in. Really. Anything. With no regard for the law, rules, or even what others might think of her. And lets just say diplomacy is not a skill she has or that ever works on her. She prefers.... alternative methods to get what she wants and needs.

Technically speaking, she hasn't been allowed to use magic, and her wand was snapped upon her expulsion from Hogwarts. It was at the beginning of her seventh year so she did learn at least the basics of wandless magic. Completing six years of schooling also gave her strong magical proficiencies. But, since her expulsion she has spent quite a bit of time traveling the world and committing many crimes. During these years she's developed her physical capabilities to the point that she is extremely dangerous with and without magic. Recent events though have... changed this particular situation. 

Sarah has never been good at controlling her temper. At all. Her anger is like a raging fire, burning fast, burning hot, and burning everything in sight. She is prone to lashing out violently when angry, with little regard to who gets in her way and who she hurts. Unapologetic, she refuses to ever admit she is in the wrong or that she's made a mistake.

Recent events have found Sarah as part of Magical Interpol's recapture unit, individuals tasks with finding and capturing the escaped prisoners. Up until fairly recently though, Sarah was in Azkaban herself. In fact, she was there the day Azkaban fell. (This is explained in more detail in her history) While some would think her involvement with magical Interpol means she is 'reformed' she is far from. Even Magical Interpol is aware of this. She is just as dangerous, or even more so, than when she entered the prison. But because of her assassin-for-hire background she is invaluable. She is a highly skilled tracker and hunter, and does not fear her targets. She also has intimate and personal experience with the escaped inmates, making her an ideal 'hunter'. 
personal history
---
origins:
England
relations:
Mother: Stella Oliveira, 46, werewolf
Father: Deran Oliveira, 47, werewolf

Siblings:
Dakoda Oliveira, 25, dead (#sorrynotsorry)
Callisto Oliveira, 23
Mina Oliveira, 21
Isabel Oliveira, 16

Children:
Sebastian Oliveira, 3 (born 29th may 2021)

Other:
old fling/father of her child: Ares Lestrange, 22
pets:
.... She considers people her pets (please don't give her an actual pet, she's probably kill it)
history:
The story of Sarah's existence starts with her parents. Both were members of Fenrir's Werewolf army during the second war, and her mother was considered Fenrir's 'pack sister', in a way adopted by Fenrir. Unfortunately the two turned traitor and fled before the battle at Hogwarts, more concerned about their unborn child then her own brother and the cause they'd devoted themselves to.

Dakoda was the first born, an a year later, Sarah, the second oldest, joined the small but growing family. Sarah was a sweet child, according to her parents, when she was little. But all that changed when Fenrir finally found the growing family. Sarah really doesn't blame him for what he did. After all, her parents were the ones that left him. They lacked the courage and resolve to fight for their cause. He attacked during the full moon, when her parents were gone; to ensure they didn't hurt any of the children or neighbors during their transformation. Dakoda and Sarah were bitten that night.

Sarah wasn't the same after being turned. Dakoda took after their parents, and tried to control his wild nature. Sarah, maybe because of how young she was at the time, gave into it completely. She had a hard time making friends after being turned into a werewolf, obviously. She didn't wan't to please people, or pretend to be something she wasn't and her wild nature scared most children her age. So, growing up? Her only friends were her siblings. It was never a secret who had turned Dakoda and Sarah. At first, Sarah hated her 'uncle' (not by blood.). He could have killed her, after all! Not everyone survived werewolf attacks. That anger she felt towards him showed in everything she did, and her older brother was always having to break up fights between Sarah and other kids because they'd managed to rile up that temper.

Then, Hogwarts. Dakoda was a year ahead of her. The year that he was gone, and she was still to young to attend herself was.... rough. Her parents tried to control their oldest daughter, but it was a difficult task. Thankfully, the next year she received her own letter and was able to join her brother at Hogwarts. Despite being in different houses he'd be able to keep an eye on his younger sister and make sure she didn't do anything that crazy. His work was cut out for him though. Those were the years Sarah started to learn more and more about their uncle, and the war. About what had happened and not just what their parents had told them. Her first through sixth years were spent getting in fights, having said fights broken up by her brother, spending her afternoons in detention, and learning everything she could about her Uncle.

The beginning of her seventh year as quite different though. They were discussing the Second Wizarding war in class and one of her classmates had made a comment about her uncle and his 'filthy werewolves', and how he hoped they were all rotting in Azkaban or being hunted like the scum they were. Obviously, Sarah and her temper couldn't let such a comment stand. With no regard for the teacher or the other students Sarah lashed out. Violently. Ruthlessly. Needless to say by the time the Professor managed to break it up the other student was so horribly injured that they were sent to St. Mungos. Sarah, obviously, was expelled and her wand was snapped.

After her expulsion, Sarah... well, went off the deep end to put it nicely. She packed up all of her belongings that she could carry and disappeared into the night. She spent a year trying to find Fenrir. And when she did, she willingly joined him and those werewolves that still followed him. At last she felt totally accepted. Where her anger and violence wasn't scorned upon, but instead completely accepted and encouraged. She spent several years, just living away from society and giving into the wolf inside her. They taught her that she didn't need magic and how to rely solely on herself. They also solidified her hatred for the Ministry and Hogwarts.

Sarah didn't see much of her family during these years. She'd write occasionally, and visit every so often. Each time she did visit though she was sure her family could see the change in her. None of them knew where she was though, or who she was with. Never did she divulge any information about Fenrir to them, knowing her family would never approve.

Several years ago, during one of those visits home, Sarah found herself at the Hogs Head, drinking. A lot. Being the reckless creature she was, one thing led to another and she ended up spending the night with one of the other patrons. Convinced that she'd never see him again, she left the next morning and returned to Fenrir and the other Werewolves. Two short months later they discovered she was pregnant. Sarah initially wanted to abort the child, but one of the other werewolves convinced her not to. So, several months later she welcomed her son, Sebastian.

Sarah visited home several times during her pregnancy, so at least her family knew about the infant.

site events reaction:
Sarah was with Fenrir and his pack when the murders first started. Upon his orders, Sarah traveled to her home country to begin investigating the situation and eventually learned of Elaine Dupree. Again, following Fenrir's orders Sarah pledged her allegiance to Elaine. 

Sarah was a hit woman for Elaine, dealing with anyone Elaine asked. Though she also had her own agenda going on at the same time. Her brother ad knocked up one of his many whores, some wannabe healer. Well, Sarah made sure to handle that situation and... encourage a miscarriage. Somehow though Dakoda discovered Sarah's involvement in the death of his unborn child. Before he could go to the authorities though Sarah murdered him. She felt nothing, no remorse, nothing. He was just a fool in her way that had needed to be disposed of. 

Elaine had a plan though, and she needed someone in Azkaban. Sarah, despite her extreme dislike of confined spaces, volunteered. She had quite the record, after all. They could ensure her imprisonment. So, Elaine leaked a tip to the Ministry, that Sarah had been involved in Dakoda's death. Sarah was arrested and sent to Azkaban while the ministry investigated the murder. All the while Sarah was getting to know the inmates. Learning their skills, their strengths, their weaknesses. Everything possible. Through one of Elaine's moles in the ministry Sarah was able to send this information back to Elaine.

Sarah knew the attack on Azkaban would happen, though obviously things didn't go as planned. When the mission sent south and the Purifiers were forced to flee, Sarah was able to send a message for Elaine back with one of the Purifiers. All this message was, was 'Trust me, I have a plan". While it didn't make sense in the moment, it would later. Sarah didn't flee Azkaban when magic returned like all the other prisoners. She stayed, waiting for the Ministry to arrive and willingly let herself be arrested. Magical Interpol, when they arrived and heard a prisoner had willingly stayed behind immediately took interest in her. After reviewing her record, and particularly what she was capable of, they offered her a deal. Help catch the escaped inmates and they'd wipe her record clean. Who'd refuse an offer like that?
alias
---
name:
Sora
age:
27
time zone:
Mountain
reference:
I is co admin
other characters:
All the crazies