Post by Mod Seph on Sept 25, 2020 11:31:11 GMT -7
IF YOU WANT TO PLOT ANYTHING, REPLY HERE OR SEND ME A PM!
You can try discord but I make no promises about being on there.
isn't it easier to forgive than to hate?
INFO
NAME
Heleen Arista Lisanne Oppedyk
AGE
26-years-old
BIRTHDAY
May 5th, 2000
BLOOD STATUS
Half Blood
OCCUPATION
Unspeakable
PET

Spock the Gekko
SEXUALITY
Straight
RELATIONSHIP
Single
TAG
@ seph
FACE
Lily James
| | |
| --- | --- |
| Kind, clever, forgiving | TRAITS |
Heleen is a sweet girl, but she keeps secrets for a living. She is very much a people person and tries to be friends with everybody. She can be quite the people pleaser and rarely managed to properly stand up for herself. She cares deeply and finds it difficult to say no when people ask her for help.

FRIENDS
When it comes to friends she's one of the better ones you'll have. She'll do what she can for you, as long as you treat her as well as you're able. She doesn't like the feeling of being angry and holds no grudges, preferring to simply phase people out of her life over telling them to leave to their faces.

ENEMIES
Purists, people that hate werewolves. Apart from that she really doesn't consider people her enemies all that quickly and even with her enemies she'd be polite. She just... avoids them where possible.

LOVERS
She's been deeply hurt in the past, making her rather insecure about relationships. A kind and patient person would easily be able to lure her out of her shell and make her give love a try again.

THANK YOU HANNAH FROM ADOXOGRAPHY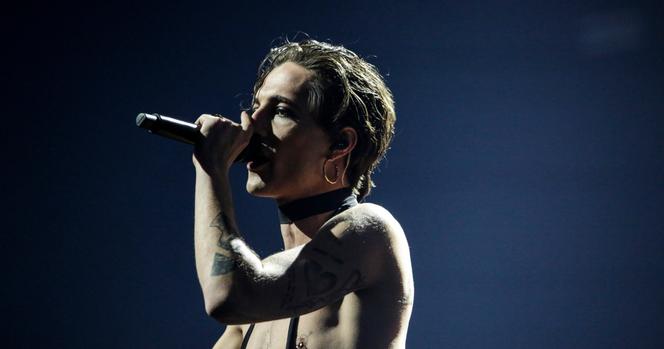 PAURA DI SPARIRE
INFO
NAME
@auguste
AGE
24-years-old
BIRTHDAY
August 24th, 2001
BLOOD STATUS
Pureblood
OCCUPATION
SInger/Songerwriter (Superstar)
PET

Phillipe the Tiger
SEXUALITY
Pansexual
RELATIONSHIP
Single
TAG
@ auguste
FACE
Damiano David
| | |
| --- | --- |
| emotional, extravagant, friendly | TRAITS |
Gus has always been a bit dramatic. He grew up with a depressed mother and inherited her bad luck in terms of mental health. After she passed he blamed himself a lot and fell into a large amount of bad habits, despite his young age. It all got progressively worse until his best friend and father managed to convince him to use his musical talent to try and make money. It was near instant fame and Gus grew addicted to the job.

FRIENDS
Gus doesn't have a lot of friends, but he is relatively easy to get along with. The friends he does have he cares for a lot and is loyal to, at least within the boundaries of his own imperfections

ENEMIES: There are bound to be jealous people. Jealous of wealth or success or just angry that a pureblood would date a muggleborn so publically. Plenty of scorned lovers are possible too.

LOVERS: He's currently attempting to find 'the one' so he's definitively open to going on dates and whatnot. I'm picking based on chemistry, no pre plotting for this one.

| | |
| --- | --- |
| CURRENT NEEDS | exes/flings, close friends, fans, stalkerS, final |
THANK YOU HANNAH FROM ADOXOGRAPHY
WE'RE GONNA SHOW THE WORLD THERE'S JUST NO STOPPING US
INFO
NAME
@deva
AGE
24-years-old
BIRTHDAY
April 10th, 2001
BLOOD STATUS
Half-Blood
OCCUPATION
Sabbatical, then teacher
PET

Cosmos the Great Grey Owl
SEXUALITY
Straight
RELATIONSHIP
Dating
bjorn alexander krok
TAG
@ deva
FACE
Sofia Carson
| | |
| --- | --- |
| well-behaved, good, loving, caring | TRAITS |
Deva was born and raised in an auror family. Her father and uncles were all aurors and her family in general is heavily involved with the law. Deva was raised to be a law abiding citizen and followed the law to the letter, until she fell in love. Now she's more inclined to see how the law affects people and sometimes even does them a disservice. She's grown a lot over the last years and has slowly started to manage her slight temper a bit better, even if some still bring it out of her to near extreme amounts.

FRIENDS
Deva used to care a lot about the rules and following them but recent events have set her to a very indifferent state. As long as you don't hurt her (or her friends), she doesn't much care if you break the rules or follow them.

ENEMIES
If Deva hates you, you'll know. She's not quick to get angry but she's usually quick to forgive. That being said, she is not a push over and will not hesitate to tell you how she feels. If that makes you hate her, well too bad.

LOVERS
Deva has found the one and only. She's open to a few exes but she doesn't really need them.

| | |
| --- | --- |
| CURRENT NEEDS | Friends! possibly more exes? other plots |
THANK YOU HANNAH FROM ADOXOGRAPHY
Hope plays a wicked game with the mind
INFO
NAME
Ilija Cayden Fortescue
AGE
25-years-old
BIRTHDAY
August 15th, 2000
BLOOD STATUS
Half Blood
OCCUPATION
Curse Breaker
PET

-
SEXUALITY
Straight
RELATIONSHIP
Confused
TAG
@ ilija
FACE
Jake Hold
| | |
| --- | --- |
| secretive, protective, warm | TRAITS |
CW! Depression, death, loss of limbs, pretty much a lot. He's a heavy one to plot with.

Ilija is without a doubt one of the less lucky guys out there. Everything was fine for him for most of his childhood, apart from being allergic to cow milk protein. The fun part was that his father is a famed ice cream maker, meaning Ilija was raised on the praise for his father while also unable to taste most of it. It did lead to a deeper range of flavours that Ilija and other people with an allergy could eat. His life changed after graduation when he moved abroad with his high school sweetheart. The two found themselves pregnant and were preparing to be parents. The first blow was having their baby boy be stillborn. The young couple was quite hurt but moving on until one day they accidentally triggered a trap in a tomb while working together. Ilija's girlfriend (Hannah) died and he lost his leg and was hurt pretty badly. He now has a prosthetic and severe PTSD.

FRIENDS
In terms of personality, Ilija used to be a happy and cheerful young man with a positive and hopeful outlook on life. His older friends will likely know and remember him that way for a part. Naturally all of that changed after the accident. Ilija currently is very withdrawn and doesn't like to talk about himself or what he's been through. He's a lot more careful, down to earth and negative. He's fiercely loyal to his friends and family and would do (almost) anything in his power to help them if they need it. He's kind and compassionate and will always try his best to help people in pain, as he knows what it's like to be hurting. While he's bad at reaching out for his own sake he'll easily reach out to check in with people that he knows might be struggling and won't ever ask them to pretend everything is okay just because others want it to be so.

ENEMIES
Ilija does not like people that push him to share, but as a Hufflepuff doesn't really consider anybody his enemy. He has plenty of people he avoids working with or being around but any hate or dislike is unlikely to be mutual. If you manage to make him your enemy, that'll never change back again.

LOVERS
Love is complicated. While he's currently dating Camila, he's not sure he wants the attention that comes with dating her. Apart from that a girl surfaced that looks like the twin sister of his deceased fiancee, so he's generally very confused about all of that. He's not going to open up romantically to more people and truly scramble his brains to dust.

| | |
| --- | --- |
| CURRENT NEEDS | friends old and new, trainnees |
THANK YOU HANNAH FROM ADOXOGRAPHY