Post by Deleted on Dec 29, 2014 10:42:03 GMT -7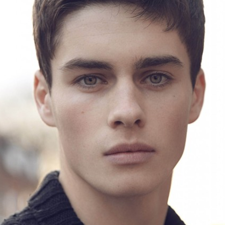 short line of lyrics here~
Hogsmeade wasn't a place he took to visiting often. The castle was usually far more quiet during those weekends and it was rare for him to miss out on it. He could walk the halls during the daytime without forcing his way through those dreadful crowds - which usually resulted in him escaping to the outdoors for a lengthy smoking session until they died down (something he didn't particularly enjoy doing in the dead of winter). Not that the treck down to Hogsmeade was any better. It was terribly cold, wind pushing right through his winter robes, through his skin and right to the bone. He shuddered, buried his face further into the scarf his mother knit him and forced his feet to move faster. The snow was packed high; soft drifts of uneven terrain. He couldn't tell if it was snowing or if they wind was just pushing around what was already there. Another shiver, another step and he was in the small wizarding village.

Students and professors alike roamed the streets, laughing, talking, bundled together as they shopped about. Some younger Gryffindors were throwing snowballs at eachother down the way, and one of his classmates was trying to drag her friend into Zonko's Joke Shop. He didn't walk towards her though, slipping down an alley that blocked the path of the wind. He'd remembered the bookstore being somewhere down one of the lower streets - where the crowd wasn't bustling, even despite the cold - which was baffling, considering just how frozen he was.

Nestled into his scarf, from the nose down, he peered down the way as he stepped from the alley. There were few people on this street, which suited him far more. It took a moment glaring into the bright white, but eventually he caught sight of the shop he was looking for. The sign above it read: Tomes and Scrolls 1768 Specialist Bookshop. He'd been in it a couple times before, on the few occasions that he'd gone to Hogsmeade, but never bought anything. But he had remembered a book he had spotted there before and decided it was about time he'd gotten his hands it, since his searches in the Hogwarts library came up dry.

Stepping into the bookshop, he pulled his face from the scarf and looked around as an older witch disappeared behind a shelf. He kicked snow from his shoes and glanced over at the counter, where an old man appeared to be napping. Jude let out a breath and tried to remember where he'd seen the book and started down an isle filled full of books. Some that whispered or croaked, one that had steam curling from its pages. He kept his distance from the ones that looked as though they were moving and made extra effort to avoid anything that looked like The Monster Book of Monsters. He didn't particularly enjoy having it chew into his shoes the first time he'd encountered it, considering he damn near lost his toes.

And then he saw it, a dusted sign, taped to the shelf in small letters. Muggle Books. None of them shifted or groaned or gargled. They were silent, un-moving and incredibly dusty. His fingers drew along the spines searching for the title he was looking for. The Iliad, The Art of War, The Prince. Classics. Pieces of history, primary documents from the muggle world. He didn't want to read them though, not after learning how much influence the wizarding world had over masking the truth in history. Eventually though, he would find it in himself to contrast and compare the two different but coinciding dialogues of history. For now though, he moved onward, to fiction. Sherlock Holmes, Lord of the Flies.... and finally. The Chrysalids. A small old cover with a worn spine. And then he heard a shriek, and turned, a blur of books and cloak collided into him.